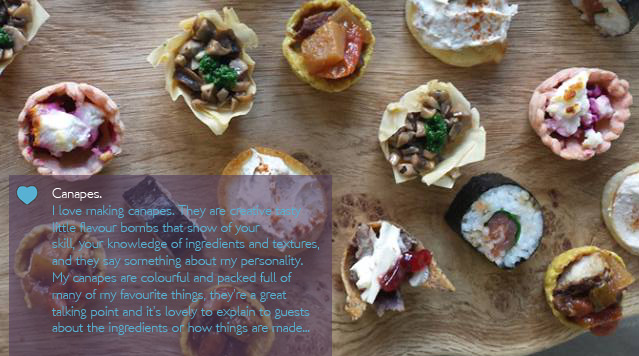 If you're looking for caterers to make your canape party stand out look no further! Featuring fruit and herbs from my garden in Praze, berries from the hedgerows, mackerel caught by me around Cornwall and hot smoked in the garden. Lovely sustainable farmed salmon cured in what ever flavour you fancy – just ask. Gorgeous pork from Trevaskis farm, plenty of hand baked bases and sweet treats, homemade preserves, more Cornish produce than you can shake a stick at and a big helping of Miss Tea sparkle.
Some ideas…
Pease pudding and smoked ham toast cups.
Slow cooked belly pork on peppered lavosh with spiced Katy apple chutney.
Home smoked mackeral & ricotta pate on fennel pancakes with lemon zest and cayenne.
Salmon cured in ouzo and mustard on rye flour blinis with creme fraiche.
Cornish goats cheese tarts with spiced beetroot in a buttery beetroot pastry V.
Chive pancakes with creme fraiche and red onion confit V.
Filo tarts with pan fried mushrooms and wild garlic pesto.
Mini chocolate brownies with poached conference pears & clotted cream V.
Cornish apple and blackberry cake with custard cream & toffee apple dust V.
Lavender cake with a lemon glaze V.
Tiny scones, homemade jam, clotted cream and seasonal berries V.
Homemade lemon curd brulee tarts V.
Price is £10.50 per head for 6 different canapes, 2 of each per guest.
Staff – quotes available on request
Price deals on larger numbers – just ask.
"A short note to once again thank you and the equally wonderful Helen for helping to make our launch evening so successful. Very professional, yet very relaxed. A great combination. We could not have asked for more. I am now a committed disciple of Miss Tea! Fabulous. Amazing. Delicious. Scrumptious…… Bob Leach, Belvoir Lettings".